Family time is important, and it can be hard to find the time for it in this new age where adults and children alike are all glued to a screen. Our mission at Ropoda is to empower you through our games and products. We want to motivate you to become greater versions of yourselves by living fulfilling lives.  So here we are to remind you to get up, get outside and enjoy some quality time with your family.
Parents, help your children live happy and healthy lives by introducing them to games that you probably already remember from your childhood. Kids, remember to make the most of quality family time while you still live at home and may take these interactions for granted.
Don't worry, you won't even have to go far to have a good time. All you need is a patch of grass outside and a few willing family members and you're ready to have some fun! Not sure where to start? We have plenty of lawn games for the whole family and here are just five games to get you started.
Croquet
Croquet has been a popular lawn game for many years. The best part is it can be played anywhere – your backyard, the local park, the beach. All you need is a wide-open space, up to six players with a bit of a competitive streak, and a croquet set like the Ropoda set.
The premise of the game is simple. Hit your ball through the wickets in order and be the first to make it through the course to win. It can quickly become a game of tactics where you can choose whether to try and sabotage other players or just try and focus on your own progress (while avoiding any potential sabotages).
It's not a game you can get sick of quickly as you can easily mix up the course and make it easier or more difficult. Take it along to your friends' house and you can all get a kick out of competing with each other.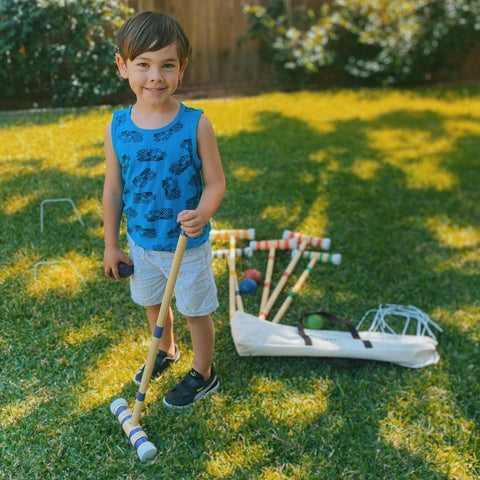 Giant Dice
The options are endless when you have six giant wooden dice. Make up your own game or play an existing game. There are plenty of ways to play both on your own or with others so you can be sure you're set for an afternoon of entertainment.
Here at Ropoda we came up with Yardzee. Yardzee is the outdoor twist on the usual Yahtzee game that most people may already know. The rules are simple and can be read off the back of the score cards. Use the two dry-erase scoreboards to compete with your own best score or with others.
Perfect for all ages, Yardzee is both fun and educational. Empower your children to practice using their number skills at home while enjoying being outside with their loved ones. The large dice makes it easy for even young children to add up the scores on all the dice.
Bocce
You may know this game better as lawn bowls, but either way, Bocce is an easy-to-understand game for all ages. Set-up takes less than a minute and then get ready to have hours of fun. There's one goal only: keep your ball as close to the small white ball as you can, but be careful not to touch it.
Another game perfect for developing athletic skills like throwing and hand-eye coordination, while also giving your children the freedom to develop their social skills. Fire up the barbecue at home or the park and get out the Bocce balls.
Our set of Bocce balls is colourful, durable, and waterproof so you know you'll get a lot of life out of this game if you shop with Ropoda!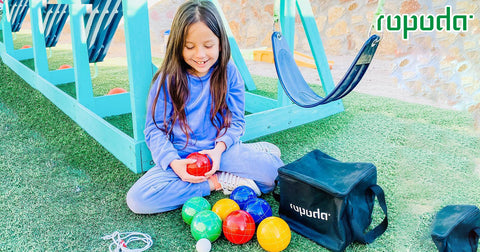 Giant Tumble Tower
The set of giant wooden blocks which makes up the Giant Tumbling Tower is big enough to play outside but not so big that you can't play it inside too. Play the classic version of the game or use the custom rules and dice to play a variation of the game allowing for even more interaction.
There's nothing more important than quality time with the people you love. This game is perfect for indoor or outdoor games nights, meaning that everyone can sit down and spend time together no matter where or when, whether there is rain or shine!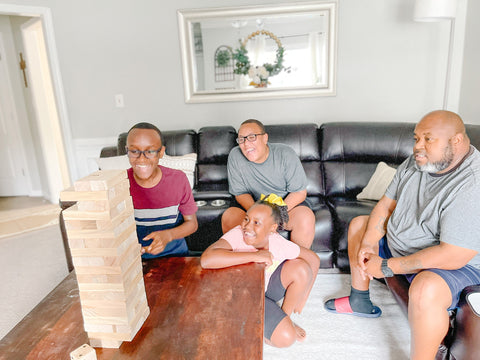 Yard Pong
Yard Pong is a game of taking turns trying to throw your balls into the opponents' cups. The first person to clear the other person's six cups is the winner. Adults, are you reminiscing about your college years yet?
This game can easily be played in teams or just with two individuals. Move the cups further away if you need an extra challenge or bring them closer if you're still learning and want to make it easier. Perfect for improving children's hand-eye coordination and developing ball skills which are useful for other sports as they grow up.
The Ropoda set comes with 12 buckets, two tennis balls, and two other special balls. Experiment with what you like best and see how quickly everyone picks up this simple game.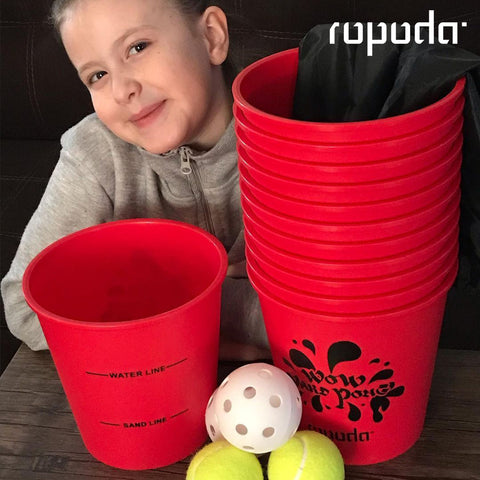 What are you waiting for?
Getting outside and enjoying some fresh air while spending time with family and friends is super important. Make the most of warm days and strengthen those family bonds that will last a lifetime while having fun and teaching or learning new skills.
You'll love these classic lawn games and the extra little twists we've given them. Better yet, they're all completely portable so you can take them wherever your summer weekend takes you. Get the people you love together and start having some fun in the summer sun!